SMS
SMS (Short Message Service) is the text messaging service component that enables for text messages to be sent between mobile devices, as well as with services like Heymarket.
Because the service leverages standard protocols, there are some important limitations and considerations that need to be accounted for when using SMS.
While SMS messages can be joined together, messages longer than 160 characters are split by carriers prior to them being sent.
SMS Segments within Heymarket
This has some implications on how many SMS segments you should consider buying when choosing your Heymarket plan. While it may seem that you're sending out an individual message, the number of segments are calculated using the below table:
| | |
| --- | --- |
| Segments | Characters |
| 1 | 0 - 160 |
| 2 | 161 - 306 |
| 3 | 307 - 460 |
| 4 | 461 - 612 |
| 5 | 613 – 765 |
| 6 | 766 - 918 |
| 7 | 919 – 1,071 |
| 8 | 1,072 – 1,224 |
| 9 | 1,225 – 1,377 |
| 10 | 1,378 – 1,530 |
Heymarket will warn you prior to send messages that are greater than 1 segment, so you can be aware of how this will impact your overall message count.
As can be seen in the screenshots below, Heymarket will display the number of segments a message will use next to the Send Now button and provide a warning to ensure you are aware that while an individual message is being sent, several segments will be utilized: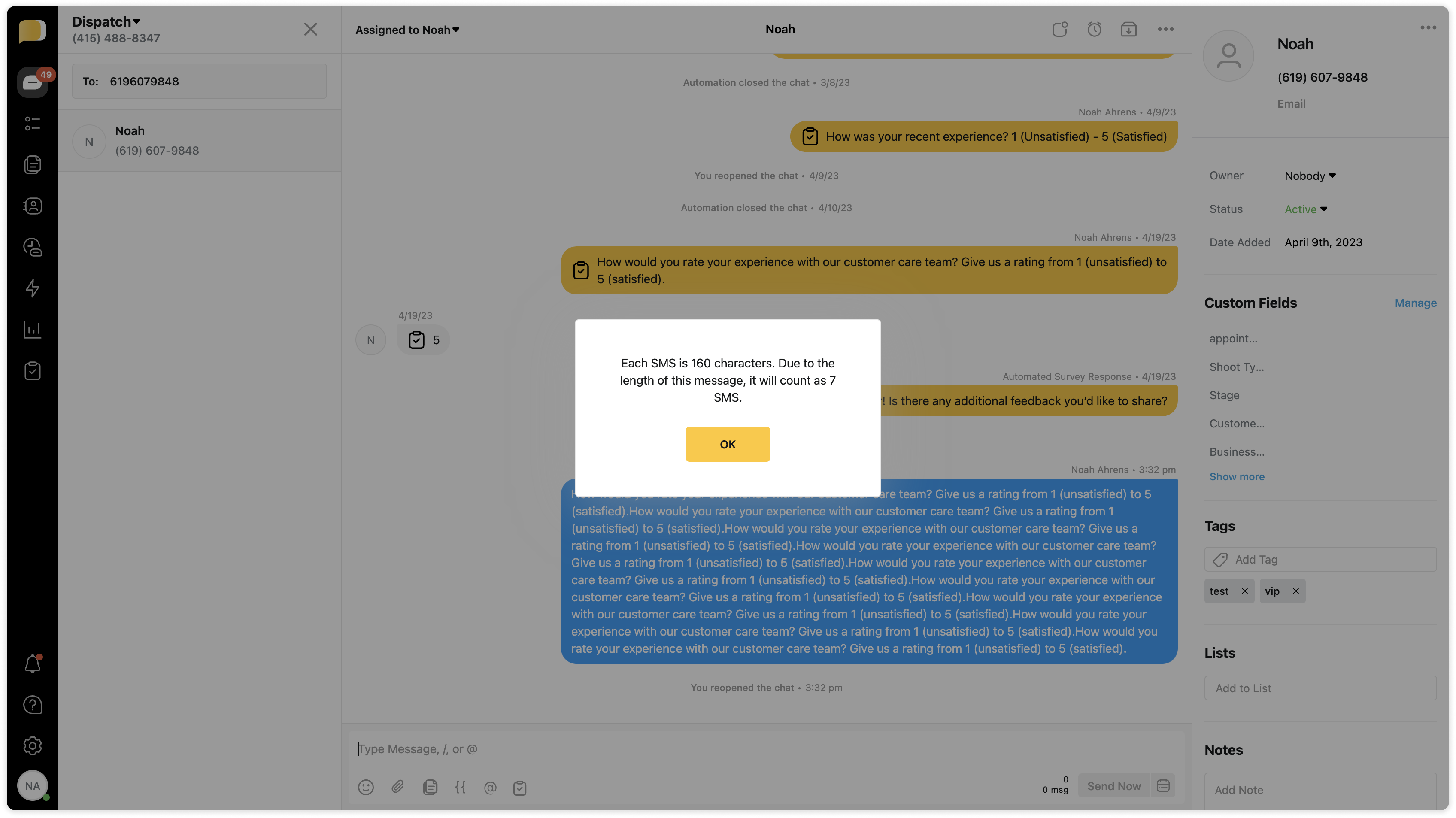 MMS
Similar to SMS, MMS (Multimedia Messaging Service) is the standard protocol that is used to send messages that contain multimedia (images, PDF's, videos, etc.).
MMS Segments within Heymarket
Heymarket currently limits MMS messages to 100MB. You can upload images, PDF's and videos of up to 100MB that will count as an individual segment. If you attempt to upload a multimedia filed larger than 100MB, the upload will be blocked by Heymarket and you will be displayed the following error message: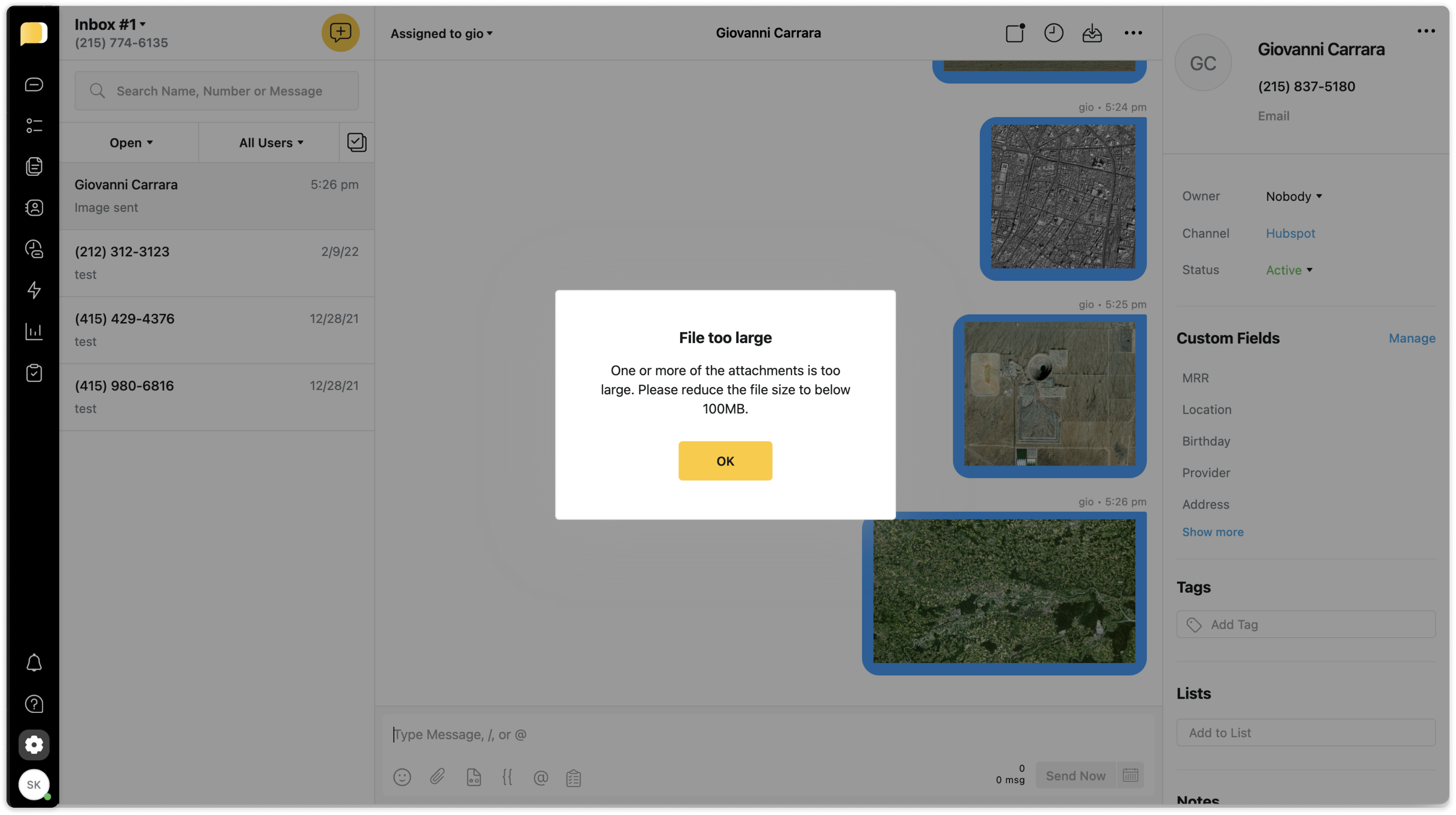 Frequently Asked Questions
I'd like to include an image or video to my message, how will that affect the number of message segments I'm sending?

Each attachment you add to the message will add a segment to your message.

What is the size limit of files that can be sent via MMS?

Heymarket

typically supports MMS up to 600KB in file sizes. However, this limit depends on our carrier as well as the recipient's carrier and phone type. If a client receives this message, we recommend sending the file via email as it's likely due to technical limitations on the recipient's end.

. You can upload images, PDF's and videos of up to 600KB that will count as an individual segment

What File Types do we Support?

Currently we only support MMS,SMS & PDF file types.

How can I see the number of message segments?

Heymarket will display the number of message segments below the character count (N.B.: multimedia will not count towards this).
Further Questions
Do you have any questions? Feel free to message in to (415) 561-0100 and we'll help out!